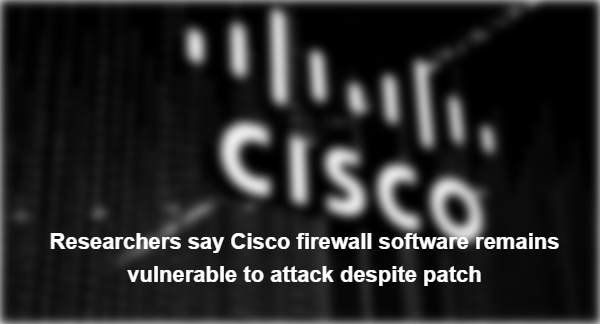 null 600x324 https://www.cybersecuritydive.com/imgproxy/SW2bcUnoYbH1NdJjL8gLvg28eAFEntyI6j-q8fgMwQQ/crop:4175:2257/g:nowe:0:0/rs:fill:1200:648:1/bG9jYWw6Ly8vZGl2ZWltYWdlL0dldHR5SW1hZ2VzLTEzNzMzODMxODkuanBlZw.jpg grayscale(100%) blur(5px) -1

Researchers say Cisco firewall software remains vulnerable to attack despite patch
Russian hacker group Killnet claimed responsibility for the attack, stating on its Telegram account on Wednesday it had blocked access to more than 200 state and private Estonian institutions.
Hackers continue to exploit the Log4j vulnerability in vulnerable applications, as shown by the Iranian 'MuddyWater' threat actor who was found targeting Israeli organizations using the SysAid software.
Threat actors are dumping the Cobalt Strike penetration testing suite in favor of similar frameworks that are less known. After Brute Ratel, the open-source, cross-platform kit called Sliver is becoming an attractive alternative.
As cash transactions become a thing of the past, an increasing number of people's interactions with their bank or bank accounts happen through their smartphones.
Software development and security solutions provider JFrog has disclosed the details of several vulnerabilities affecting the OPC UA protocol, including flaws exploited by its employees at a hacking competition earlier this year.

MALWARES
Threat actors are offering an International Bank Account Number Clipper malware on an underground forum with a monthly subscription model that is designed to target Windows-based systems.
A new malware campaign disguised as Google Translate or MP3 downloader programs was found distributing cryptocurrency mining malware across 11 countries.
LockBit ransomware gang announced that it is improving defenses against distributed denial-of-service (DDoS) attacks and working to take the operation to triple extortion level.The gang has recently suffered a DDoS attack, allegedly on behalf of digital security giant Entrust, that prevented access to data published on its corporate leaks site.
DuckDuckGo has opened its 'Email Protection' service to anyone wishing to get their own '@duck.com' email address.
As per a report by Chainalysis, cybercriminals have already stolen nearly $2 billion worth of cryptocurrency in 2022 which is a spike of nearly 60% compared to a year ago.
BW-CIRT
Botswana Communications Regulatory Authority
Private Bag 00495, Gaborone, Botswana
Disclaimer: This information was gathered from multi-trusted feeds and it is not created by BW-CIRT